Warning
: preg_match(): Compilation failed: invalid range in character class at offset 4 in
/home/customer/www/writeondana.com/public_html/wp-content/plugins/pinterest-pin-it-button/includes/simple_html_dom.php
on line
1364
Warning
: preg_match_all(): Compilation failed: invalid range in character class at offset 4 in
/home/customer/www/writeondana.com/public_html/wp-content/plugins/pinterest-pin-it-button/includes/simple_html_dom.php
on line
684
Warning
: Invalid argument supplied for foreach() in
/home/customer/www/writeondana.com/public_html/wp-content/plugins/pinterest-pin-it-button/includes/simple_html_dom.php
on line
691
Warning
: preg_match_all(): Compilation failed: invalid range in character class at offset 4 in
/home/customer/www/writeondana.com/public_html/wp-content/plugins/pinterest-pin-it-button/includes/simple_html_dom.php
on line
684
Warning
: Invalid argument supplied for foreach() in
/home/customer/www/writeondana.com/public_html/wp-content/plugins/pinterest-pin-it-button/includes/simple_html_dom.php
on line
691
I'm so thrilled to see so many of you sharing the One-Hour Turkey post with your families and friends on social media! Thank you! I can't wait to hear about your life-altering experiences with it. But, if that one blew your minds… hang onto your hats! This one takes the cake! (pun heartily intended.)
"What's better than a thanksgiving feast?" I ask you. WELL, A THANKSGIVING FEAST IN ONE EPIC LAYER CAKE FORMAT, FRIENDS! I got the inspiration from a series of posts on "meat cakes" over at Vegansaurus back in 2010 (in a past life long ago… when I was a (gasp) vegan). Culinarily curious gal that I am, I felt compelled to take up the challenge and put my vegan cooking skills to the test of tests by making as much of it from scratch as possible… from the faux turkey base to the mashed potato icing and cranberry sauce topping. Mind you, this could easily be made carnivore-style. Just swap in real turkey, butter, and cream as you please! Mmmmm.

With Turkey Day right around the corner, I thought I'd bring this post back from the archives, for those of you still looking for that "blow them away" holiday table treat. I have to say, making it was much simpler than it seems (bonus!), and I still consider it one of my greatest culinary endeavors thus far. (You'll have to bear with the shoddy photo quality. I was but a wee blogger back then!)

It's an entire holiday dinner in one meal: "turkey", mashed potatoes, sweet potatoes, cranberry sauce, and stuffing. For a lover of sweet and savory together, this business rocked my palate's world. And everyone, even my most carnivorous of friends, was transfixed by the beast. They thought it was a regular cake, until I sliced it open and displayed its hidden magic! Everyone embraced it, vegan or not, and they gobbled it up like they were the (very very hungry) turkeys. And oh yeah baby, it was even better the next day.

I started with a base of homemade "turkey" seitan, for the meat part. Seitan is a protein-rich meat substitute made from vital wheat gluten powder… and though it may seem intimidating, its super easy peasy lemon squeezy to make. After a "meh" test run with one recipe I found, my bestie directed me to Ellen DeGeneres' recipe… and holy gobblesworth, it was DELISH!
The big "trick" to making it successfully is to freeze between layers, which allows it to "set" and makes for easy spreading with the softer components like the potatoes and sauce. For the turkey and stuffing, I filled them each into a round pie pan, packed them down, and froze them for about an hour before layering, which created the right shape and size to begin with.

I also planned ahead to stack them in a way that makes sense, considering their textures. Turkey on the bottom because it's sturdy and pre-shaped from the pie pan, then I slathered that with mashed potatoes. Once that had set in the freezer, I turned out the pre-frozen stuffing from the pie pan on top, and slathered that with sweet potato puree. Once that was set, it was easy to layer on the cranberry sauce. Then another layer of turkey, then sweet potatoes, another pan of stuffing, and the icing of mashed potatoes once more. I "piped" out a border to hold in the cranberry sauce topping, using a Ziploc bag with a corner snipped off, which really added to the "cake" effect. I know, it sounds m-fing crazy. And it was time-consuming, but actually really fun, and more rewarding than I ever imagined. I mean, I never pictured myself making a whole (delicious) thanksgiving meal by myself, much less turning it into a trompe l'oeil like a layer cake!

Hungry yet? Well, an epic feast deserves an epic post, so here come the recipes! And yo, it's so much simpler than it sounds. Trust.
The Seitan Turkey
4 Cups vital wheat gluten
1 Cup bread crumbs
1 Cup nutritional yeast
3 Tablespoon dried thyme
1 large onion small dice and caramelized
1 Tablespoon kosher salt
1 Cup extra virgin olive oil
4 Cups strong No Chicken, chicken stock (veggie stock)
1 full sheet of cheesecloth
Butcher's twine
Start a large pot of water boiling. Mix the dry ingredients in one bowl, and the wet ingredients in another. Caramelize the onions until soft and golden brown and add them to the dry ingredients. Mix the two bowls together until a loose batter forms, and shape that into a loaf-y shape. Lay it out onto a full sheet of cheesecloth, folded over once.

Roll it up tight into a cylinder, and tie it with bakers twine at either end and twice in the middle. Drop that puppy into your hot water, cover, and let simmer gently for 2 hours, turning once throughout.
When it's done, carefully unwrap it while it's warm. Otherwise, the outer layer sticks to the cheesecloth and makes it much harder to remove. If you're feeling cheeky, you can brush it with Earth Balance butter and blackening spices and bake it awhile to get a nice browned outside. I didn't find this necessary, either way really. By the by, this makes a HUGE roast, so I'd halve the recipe if you're cooking for a smaller crowd. Or, just freeze half and save it for a rainy day!
The Stuffing
This is the one component that was semi-homemade, as I used Pepperidge Farm stuffing mix and followed the instructions by adding veggies and broth. I just wanted to mention it because I used sauteed Trader Joe's Stuffing Starter (a blend of celery, onions, fresh parsley, sage, rosemary, and thyme) as the base, which was too easy and tasty for words. But I am bereft to report that, this year, they've discontinued the stuffing starter. WHY, TRADER JOE, WHY?!? So sub in some celery, onions, and herbs of your choice. In my mother's tradition, I also added raisins, which bring a supremely sweet and rich dimension that I simply adore.
One 3-pound bag whole sweet potatoes
Unsweetened, organic soymilk to taste
Earth Balance butter, to taste
Sea salt and pepper, to taste
This one is very dependent on how you like your mash. I boiled the sweet potatoes whole until they were fork tender. The skin just slips off when they're warm, but be careful not to burn your fingers. I pureed them in my sexy-ass 14-cup Cuisinart (thanks, Cuisinart!) and added enough milk and butter until they were juuuuuust right. I gotta say, this was the silkiest, most satiny, savory-sweet deliciousness ever. I lurved these babies!
We don't have pictures of these final two parts, whoops! Use your imaginations, k?
The Mashed Potatoes
One 5-lb. bag whole russet potatoes
Unsweetened, organic soymilk to taste
Earth Balance butter, to taste
Sea salt and pepper, to taste
I did these the same way as the sweet potatoes, and I don't really know what I did wrong (was it the type of potato? The cook time? Did I over-puree?)… but they turned out a bit gluey and thick. It was actually pretty suitable for this dish, especially the icing part… but if it were just a side dish I'd have tossed it out and started over cuz I prefer my mashed taters more light and fluffy in general.
The Cranberry Sauce
1 bag whole, fresh cranberries
1 cup orange juice, with pulp.
1 cup sugar
cinnamon, allspice and nutmeg to taste
pinch of salt
This one is simple pimple. Just boil everything up in a pot, then reduce and simmer until it reduces to your desired thickness. Add the spices last, so you can monitor how potent you want them.
That's it! Just layer and freeze, layer and freeze, "ice" with mashed taters, and brace yourself for an EPIC flavor party in your mouth. To serve, just cut into slices and warm them up individually, but it's also super yum when cold. Oh, enjoy all the compliments and comparisons of yourself to Martha Stewart…. cuz that's just how fly this bad boy is. It really is. YUM. And if you're like me, after your tastebuds do a happy dance, you and your friends can do one too… like we did!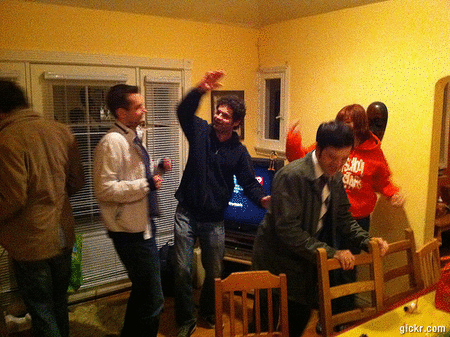 So, what do you think? Would you give it a shot?
Comments
comments